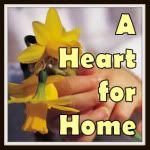 LOL Another giveaway!!!!
With the last giveaway I won from WastedTextbooks
(thanks LauraLee!) and this one...oh my...I don't need to buy anything new for my preschooler and toddler next year! I am going to be implementing the "workbox" method of organization in our school and these
Preschool Activity Bags
(I won Book 1) are going to be an awesome addition!!
Thanks to Heart at Home for having this giveaway!
What a blessing the Spring Giveaway Blog Carnival was to me this year!! I can't wait till the next one! God is good!